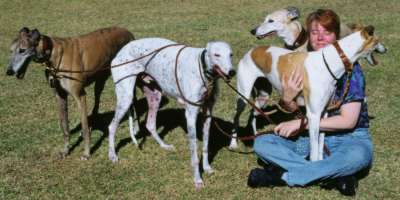 My wife and I currently have four greyhounds in our family. They are all very loving, and believe absolutely that they are part of the family. While we have certainly provided them with love, food and shelter, they have given us back far more with their quiet companionship. They amplify the joyful events, and they dull the painful ones. One could not ask more.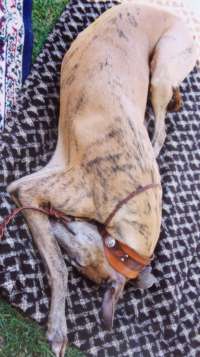 Tag
Racing Name: Ole Tag Along
Nicknames: Pinky, Tigger, Cheezy Poof
Birthday: 1 Jun 1995
Sire: Wigwam Wag
Dam: Ole K Shiela
Tag was a successful racer who was apparently retired due to an injury that kept him from being competitive. He's missing a toe on the outside of his left foot, which may be the injury in question. In spite of not being a top racer anymore, he's certainly not handicapped in any way, and he doesn't seem to miss the toe. Tag does everything with gusto, whether it's jumping up on the sofa with his toys, or attacking a flight of stairs. He's a bit easily distracted, but he loves to give kisses, and likes everyone he meets. Tag is also a master of the "broken neck" position. It's easy to see where the Celts got the inspiration for their knotwork animals.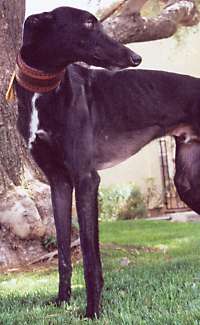 Wesley
Racing Name: Brian Knight
Nicknames: Sir Wesley, Pestley, Wild Wild Westley, Weasley
Birthday: 14 Feb 2000
Sire: Oswald Cobblepot
Dam: Cavallini
Wesley is a beautiful, skinny black boy who is a bit tentative with people, but is quite confident around other hounds. He's also a morning dog (yuck) and a wonderful roo-er. Wesley is very light on his feet, and "prances" when he walks.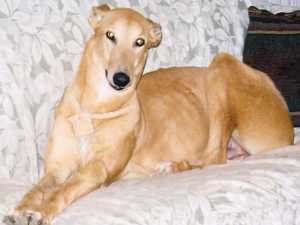 Fox
Racing Name: Century Fox
Nicknames: Foxy Boy
Birthday: 15 Nov 1995
Sire: Wigwam Wag
Dam: My Aphrodite
Fox is a big, red-fawn boy, with a super-mellow attitude. He has un unusually thick coat for a greyhound, which is best described as "plush". Fox has a strong prey drive, and still loves to chase a lure. In spite of this, he's also the laziest "lump" of our pack.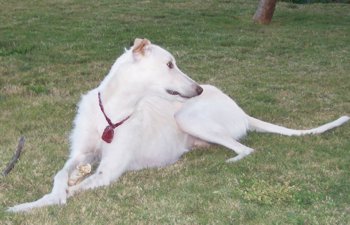 Guillermo
Nicknames: Ghillie
Birthday: 2003
Guillermo is a Spanish Greyhound (Galgo Español) who was rescued from a shelter in Texas. Guillermo is big, handsome, and exciting. He has tons of energy and loves to use it. He's got a very nice white with cream rough coat, but there's no question in looking at him that he's all greyhound. Ghillie loves to run laps in the back yard, especially if he can get Fox to chase him.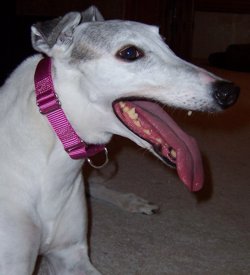 Kayla
Racing Name: Dream Caper
Nicknames:
Birthday: Sep 1996
Sire:
Dam:
Gone from our house, but never our hearts...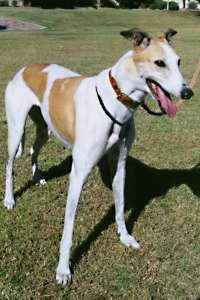 Ruby
Racing Name: SJ Aruba
Nicknames: Ruby, Ruby Queen, Ruby-Q, Miss Chief, Ruby No!
Born: 12 Apr 1993
Died: 26 Mar 2005
Sire: Bert's Bid
Dam: Hot Rags
Ruby was extremely inquisitive and quite active, especially for an older hound. Ruby loved running up and down the stairs, jumping over furniture, and "talking" to us about all sorts of things. She was completely non-stop, with all the mannerisms of a dog less than two years old. What a pistol! She even tried to hunt an elephant! Ruby was a former brood matron who had four litters of pups.

Ice Man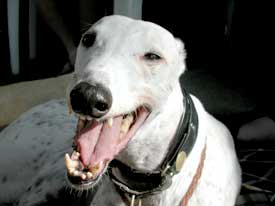 Racing Name: DV Ice Man
Nicknames: Ice, The Brain, Eyore
Born: 28 Jun 1991
Died: 14 Mar 2002
Sire: Iron Figure
Dam: DV Ariz Courtney
Ice Man was a retread. He was previously adopted out, but was returned to the adoption agency a few years later. Ice Man was a very calm, very loving dog, who would happily curl up next to anyone for as long as they were willing to pet him. The only time he would get truly excited is when it was time to go on a walk. Then he would perform his "lowrider" impression, bouncing up and down on his front paws. Ice was a happy dog, but his facial expression was often soulful and sad, which he used as a means of getting people to feel sorry for him so they'd pet him.
Ice was the second greyhound to enter our house, and the first to leave. He was fearless and quietly loyal. Our lives are the better for having known him, but sadder for having lost him.
Angel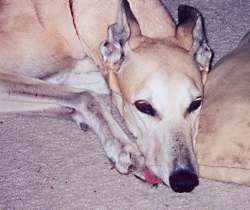 Racing Name: Honest Angel
Nicknames: Rabbit, Ole Long Ears, Scamper Girl
Born: 18 Aug 1990
Died: 25 May 2004
Sire: Buster Blaze
Dam: Pink Champagne
Angel was another retread. She had been adopted out to a family who had family difficulties several months later, and had to give her away because they felt they could not care for her any more. Angel was kept by her racing owner until she was nine years old, and had two litters of pups. Angel was very affectionate and in spite of her age, she was in very good physical shape, and acted like a puppy.