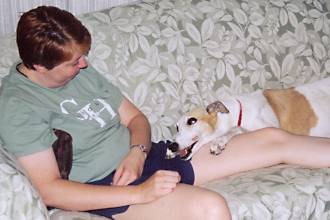 Greyhounds are a big part of my life. My wife and I feel honored to be close to such noble and ancient creatures. In return for all they give us, I dedicate a large part of my time and effort to promoting adoption of retired racers.
One of the ways I support greyhound adoption is by providing Internet services to Adoption groups. I own my own servers, and have years of experience in managing Internet services and writing custom software. I provide web, email, DNS and other services.
I currently provide Internet services for the following groups:
The Fewterers Guild: I am the guildmaster for this group, whose mission is to provide information to groups who promote sighthound adoption at Renaissance Faires and other historical re-enactments.
Greyhounds of Fairhaven: This is the Renaissance Faire troupe I belong to.
Personalized Greyhounds: A greyhound rescue in Central and Southeastern Pennsylvania.
---
Desert Raven
email: info@desertraven.com
This site is Copyright © 1999-2010 by Desert Raven. All Rights Reserved.